Paces already paved the way for dual-screen laptops with last year's screen pad. Now it's taking the concept to another level with the Asus Zenbook Pro duo. It's a powerful 15-inch workstation with a huge secondary display that spans the entire width of the machine. Asus calls this the screen pad plus instead of being a tiny display tucked underneath. The touchpad like the original screen pad. It's more like having a fully functional second monitor right on your laptop the experience isn't quite perfect.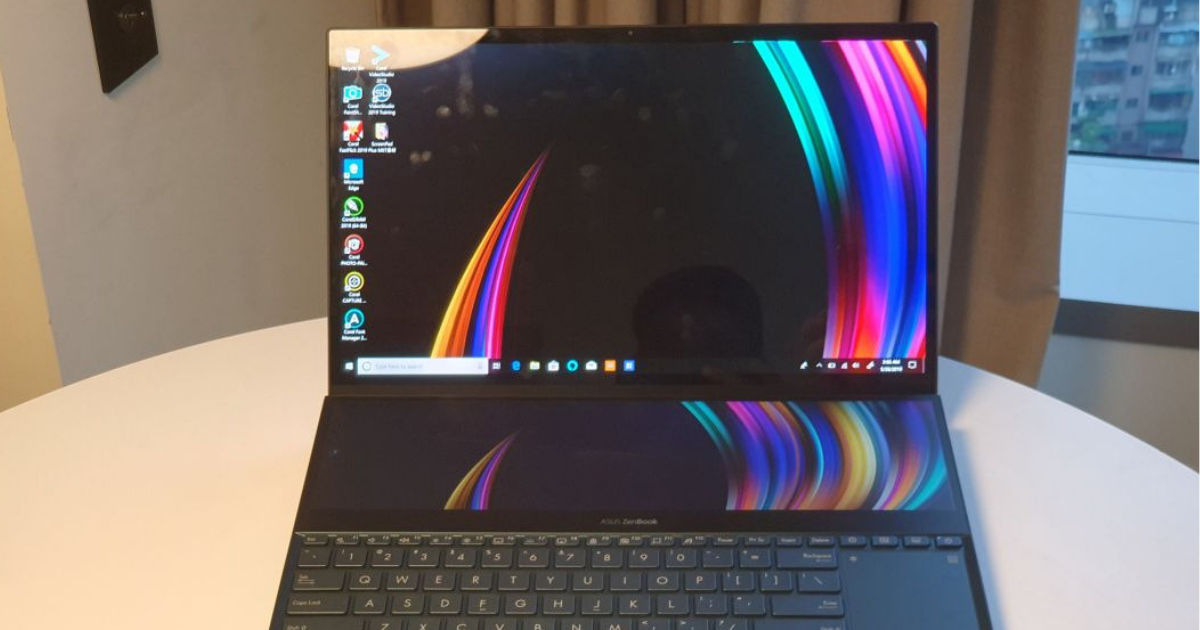 The Scream pad plus measures 14 inches across diagonally but it's just under four inches tall as you'd expect. It also has an odd resolution with those dimensions thirty or forty by eleven hundred pixels. It's basically a 4k screen cut in half that's a bit of an awkward arrangement. It suits the screen pad plus his secondary status just fine. You can help with app three apps side by side. It's just tall enough to get a decent view of slack conversations and Spotify the interface.
The screen pad plus acts just like a second desktop monitor. You just drag the mouse down to interact with it. You can drag down apps and arrange them as you like or you can hit a button to swap everything across the two screens. I found that feature most useful on the screen pad plus where I could actually switch tracks and Spotify or hop to a slack chat pretty quickly.
The wide secondary screen is also useful for spreading out toolbars and timelines and media editing apps. There are still some issues to work out though blowing up apps across both screens involves making a huge window and that sometimes cuts off content. Along the edges, it feels more like a Windows hack by ASUS instead of a completely polished feature. Another issue with the screen pad plus is a huge difference in quality between that.
Asus produces a gorgeous 15.6 inch 4k OLED screen the bigger display features HDR and all the functional benefits of OLED like inky dark black levels and tremendous contrast. The screen pad plus though is an LCD panel with a completely different color profile managing. The brightness between the two displays separately is kind of annoying the brightness keys only affect the main screen and you have to pull up a separate setting for the screen pad plus.
Since the screens are so different it makes it harder to match colors which could be a pain for creative types beyond the novelty of having two screens. Asus Zenbook pro duo is also a powerhouse unit featured intel's octa-core. The CPU and videos our TX 2060 GPU and 32 gigabytes of ddr4 Ram. It's built more for heavy-duty content creation than gaming. You'll certainly be able to enjoy most modern games like overwatch and destiny 2 in 1080 and 1440p in our benchmarks.
The product looks like a super-sized version of Asus is ultraportables with a smooth metal case and polished edges. You've also got a slew of ports to choose from including full-size HDMI a USB C Thunderbolt 3 socket and 2 USB 3.1 type-a connections given its productivity focus. Asus Zenbook pro had to move the keyboard to the bottom of the laptop similar to Zephyrus gaming notebooks. The trackpad is down there as well on the right side that's an orientation that takes some getting used to it. At least gives you plenty of room for swiping around unlike HP 0 and X 2's. The full-size keyboard feels great to type on with large key sizes and a generous 1.4 millimeters.
The only major downside with the Democrat does is that it's pretty hefty. It weighs 5.5 pounds and measures almost an inch thick that's a full pound heavier and almost twice as thick as the XPS 15. Of course and slimming it too slower NVIDIA GTX 1650 graphics. It would certainly be easier to lug around than the Zenbook. It also has intel's 9 3 m CPUs apple's 15-inch. MacBook Pro is also significantly lighter and sleeker at 4 pounds but you'll be limited to Radeon graphics not surprisingly.
You won't get much battery life from the pro duo. When using both screens during my typical workflow which involves hopping between dozens of browser tabs slack chats Spotify and image editing apps. It lasted around three to four hours in our battery test which involves looping an HD video. The laptop 1 for 3 hours and 50 minutes with both screens enabled and with just the main screen.
Asus proved that it's possible to stuff a decently sized secondary screen into a laptop at copy Texas. Here we also saw a dual-screen gaming prototype from Intel and I expect plenty of other PC. Here the Asus Zenbook pro duo means business it's not a laptop for somebody who wants the lightest and sleekest machine. It's meant for power users who want to dedicate themselves to the portable dual-screen life.