There's a phone that I want to talk about which has a punch-hole display for under piece 8000 years. I'm talking about the Infinix s5 lite which is a lighter variant of the Infinix s5 which also had a punch-hole design under rupees 10000. So I'm pretty sure this is going to be priced under the peace 8000.
So let's quickly take a look at what you get inside the box of the Infinix s valid on the front. You can see that it's a 4 GB 64 GB variant and on the rear. You should see some specs where you can see six-point six-inch infinity or display 16 MP low-light selfie camera simple camera set up compared to the quad-camera set up. On the Infinix S5, 4000 mAh battery and a lot of other details on the box. The price is written as nine triple nine but that's not going to be the case. The Infinix S5 is available for a seven triple nine and this should be for lower than that I'm expecting.
So once you take off this top line you will see the Infinix s5 lite which is a phone with a punch-hole display and it's pretty affordable that tooth. Now that all the strips of paper have been removed this my friends are the Infinix s5 lite in all its glory. I'll quickly you know switch it on and keep that aside. We'll take a look at what else you get inside the box. Of course, you get the charging cable which is a micro USB charging cable and you get the charger. Let me quickly take a look at it and which is a 5-volt 1.2-ampere charger. So there you go this is what it looks like alright keep that aside. This is your charger this is your micro USB cable. You've got a few you know QuickStart guides and user manual all that.
You've got your SIM card tool finally you have the case which looks pretty cool. Actually, in my opinion, it flicks Dusty's designs that look really nice. This has got the X Club branding as well as. We just show you what it looks like with the phone inside. It's a really cool case in fact if you rock it. It'll look really cool in your hand I don't think that it gets. inside the box is the screen guard the screen protector itself alright. Infinix S5 light the latest smartphone from Infinix. Now let's get down to our first impressions all right. So this right here is the Infinix s5 light. I've used it for a day and I have a few first thoughts that I want to share with you guys.
The fact that it brings the whole punch design has such you know low cost which is lower than the price of the Infinix s5 as well. So that makes it really interesting. So the hole punch design is definitely going to be the crowd puller for this one. Now what I also like about the design is that the bezels are neatly curved around the sides. They're equally proportionate as well plus you also get a really fairly comfortably sized. So display wise it looks really nice in fact if you're watching a lot of content. This should make it a lot more fun as well and what I like about the Infinix operating system itself which is basically EXO acid made on top of Android 9.
Infinix definitely has a lot of really nice wallpapers for you guys. So check this out so there it is this is what I like about the Infinix s5. They do a lot of customization to the software X OS but there are some issues with it. I find slightly annoying one of the things that I don't like. The software itself is this instant apps thing that comes up basically what is it is like a direct play sort of app. You know the system out here where you can directly open it without installation. It could be useful for quite a few folks but I'm not a fan of having this kind of massive card in the app drawer. You can definitely switch that off you just hit this hide instant apps and it's gone.
Now this is something that a lot of offline audiences might like but I am pretty sure that the more educated you know online audience would not be interested in this that's what it is this is the XY light from the front and that's what I've spoken about right now this off their experience as well never the design itself on the deal you get this like purely plastic build so there's nothing you know fancy about it but if you've got this you know fingerprint sensor out here on the back and you've got Infinix logo.
Well now here's an interesting thing this is a three-camera setup. There's a triple camera setup on this module. It looks like Infinix went ahead and made the module longer. You know look like just the s5 says autofocus for some reason if you zoom into that. You'll see that and that's an interesting omission like it's. It feels like they could have been one more camera out there. Instead Infinite has gone for this layout which is something that looks a little weird. For sure this is not a complete unibody design. You can see the difference between you know display panel which is aged house. On top of a bit of a raised edge and you know the back body is separate as well.
Now, apart from that, you've got a SIM card tray out here at the bottom. You've got a micro USB port 3.4 mm jack and the speaker as well. So this is you know to hold and hold the design. You've got a power button and the volume rocker on the right edge which is pretty tactile. The best part is the power button has ridges on it. So there is no way in hell you're gonna take the power button and the volume rocker. This is something that will come easily to you and you'll figure it out nicely.
Now I'll show you the fingerprint scanner and how fast it is pretty fast. There's no problem at all plus you get face and lock as well. So I'll just so you can see that fingers are not on the fingerprint scanner. I'll just quickly there you go the face headlock is also fairly fast. It's not the fastest out there the fingerprint scanner is also not the fastest out there. Now let's talk about the camera set about the rear you get this slight little camera bump on the rear and the design itself is pretty. The camera set about the rear has triple cameras actually there's a 16-megapixel primary camera. A 5-megapixel depth sensor and a low light sensor interestingly inside the camera.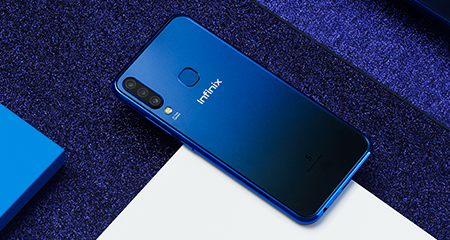 Let me just open that and show it to you guys you will see that there is no special night mode. So I don't know what the low light sensor does. I think it just uses that AR camera to sort of quickly. You know to get like a good shot in low-light directly. I'll show you a few samples to show how that looks but that's it from the camera perspective. You get this trouble camera set up on the rear despite. The fact that you know the module can actually house four cameras and it seems like it's inspired by the s5.
Now on the front, you get a 16-megapixel selfie camera which Infinix claims is really good at low light. Now let's get down to my closing thoughts on the Infinix s5 light. So those are my quick first impressions and unboxing of the Infinix s5 lite. I hope you guys like the phone because I think that. There are some you know interesting features that entrance is added. Especially that hole-punch design is something that has actually penetrated in the budget segment as well which makes me wonder. so I think that the s5 light definitely has a lot going for it. The designs nice but yes there are some issues which I did mention in my first impressions.